GENERAL INTRODUCTION:
Centennial College was established in 1966 – the first public college in Ontario and was located in the East in Toronto.
With deeply experience in training international students over 40 years, Centennial College meets the requirements of Ministry of Education in Ontario. College includes 47.000 students, 8.000 international students and over 320 Vietnamese students.
THE OUTSTANDING FEATURES:
–          It is exclusively public college is gotten a license of TedQuad from UNWTO for almost Hospitality courses.
–          All campus are located on Toronto is the biggest finance and commerce city in Canada.
–          Centennial College has close association with colleges and universities as well as the oldest industrial park, creating many working opportunities to students after graduating.
–          Almost of 3 years programs such as business and technology include co-op policy (12 months)
–          Students entitle to have part-time job 20 hours per week in Canada.
–          Students is get a working license after graduating during 3 years.
–          Students can apply Premanent Residency in Canada after working 1 year.
–          Students can transfer to more 33 universities such as University of Toronto, Ryerson University, York University, University of Calgary, University of New Brunswick, McMaster University, University of South Carolina (USA)…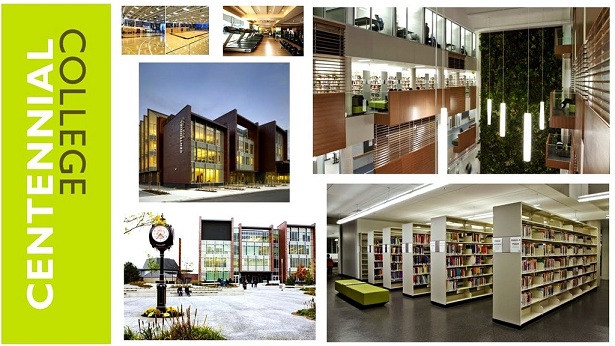 PROGRAMS AND COURSES:
·         Business
·         Community and Health Studies programs
·         Engineering Technology and Applied Science Programs
·         Hospitality, Tourism and Culinary Arts programs
·         Transportation
·         Communications, Media, Arts and Design Programs
TUITION AND FEE
| | | |
| --- | --- | --- |
| Fee | Certificate and College | University |
| Semester (2 semesters) | $12.400 | $15.375 |
| Insurance and others | $2.247 | $2.685 |
| Total (2 semesters) | $14.647 | $18.068 |
ADDITIONAL EXPENSES
Book
$500-$2400 per semester
Equipment
$500-$1.000 per semester
Residence
A)     4 bedroom/ 2 bathroom: $8,910

B)     2 bedroom/ 1 bathroom (private): $9,224

C)      2 bedroom/ 1 bathroom (shared): $8,100

Meal Plan
$995 per semester
Travel
$265 per semester
Other expenses
$600-$2.400 per semester
ADMISSIONS:
Certificates and College:
–          Graduate in high school, GPA 6.0
–          IELTS 6.0 or TOEFL iBT 80
University:
–          Graduate in high school, GPA 6.0
–          IELTS 6.5 or TOEFL iBT 84
Post-graduate:
–          Graduate in college or university 3 years, GPA 6.0
–          IELTS 6.5 or TOEFL iBT 88